With their new Moto Sport series protectors, Dutch Xion® Protective Gear is introducing a whole new level of comfort to adventure riders. We have long term tested two products from the lineup, featuring ground breaking D3O® smart polymer technology.
Back when men where men, personal protection for motorcycle riders were not on manly men's mind. Luckily for more modern men, soon after the conclusion of World War I, tank crew leather gear was adapted by motorcycle riders wanting to protect themselves in a crash.
At the same time long duster coats became "out", shorter jackets was popularized by Marlon Brando and other leather wearing studs.  For decades, leather became synonymous with rider protection. Even though the main purpose of leather suits were streamlining, horse hide provided important abrasion resistance in the event of a crash.
Eventually, built-in armor made it´s way to motorcycle riding gear. The protection was originally made from high density foam in combination with hard plastic shells. The obvious purpose, to reduce injury by spreading and dampening the impact to the wearer. A relatively low-tech solution still utilized by many manufacturers. By law, all motorcycle armor must meet certain quality standards and carry a CE-certification mark. Protection is typically categorized in levels, with a higher level offering better protection.
Fortunately, recent years have brought body protection equipment into a whole new realm with the use of modern viscoelastic technology. It is at the forefront of this development we enter the story of Holland based Xion® Protective Gear.
Made for A Wild Bunch
Founded by a couple of professional stuntmen, Xion® developed most of their products aimed at their own industry. Through the years, their customer base has grown to include athletes, extreme- and Moto sports-professionals, military and law enforcement.
An entire "Moto sport" segment is dedicated to motorcycle riders. Within this segment you'll find three long sleeve jackets and one short sleeve. One full length pair of pants, three in Bermuda cut, and one short.  All products designed over an elastic 4-way stretch base garment with multiple protective inserts in fitted pockets. Not only does this provide an exceptionally comfortable protective layer – it also makes sure the protection stay in place, if you hit the ground.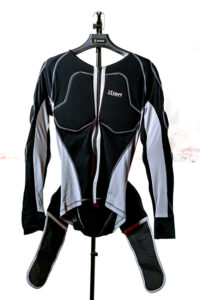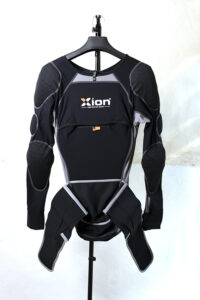 Unrivaled Comfort
As always with the genius D3O® polymer – as soon as it gets in contact with your body, warming up, it turns soft and pliable, following your every move. After a couple of minutes, we hardly notice wearing our Long-sleeve Jacket Wheels and matching Bermuda Extreme Pro. The comfort is nothing short of brilliant.
Ventilation on a hot day is good, thanks to the moisture wicking material and ventilated D3O® inserts. Not as airy as a some hard shell motocross protectors, but far more comfortable and much better suited for adventure riders.
With high comfort comes the important secondary safety as a result of less restriction of movement, less fatigue and improved concentration through long hours on the road.
Getting it On
Donning the jacket is easy, thanks to the smooth front YKK zipper and the adjustable elastic waist belt. The Wheels jacket sleeves are equipped with thumb loops, excellent for those cooler days. The neck opening is generous in size and does not interfere with jacket collars or a brace.
The D3O® protection pads are fairly low profile and does not snag the inside of my Mosko Moto Basilisk shell jacket. Full dexterity and ease of movement is as crucial in traffic as on the trail.
Back protector level can be specified during the ordering process, both Level 1 and Level 2 is available. I went for a Level 2.
The Bermuda shorts is designed to be worn high and includes protection for waist, coccyx, hip, thigh and knee. Short leg length makes sure there is no interference with motorcycle boots.
Waist is adjustable, soft and comfortable.
Using the jacket and shorts together took some getting used to, as the back protector kept pushing my pants down, once we got off the bike. An individual issue, but annoying enough until I figured it out.
Wear areas are reinforced with a durable and wear resistant fabric – and yes, there´s a front zipper.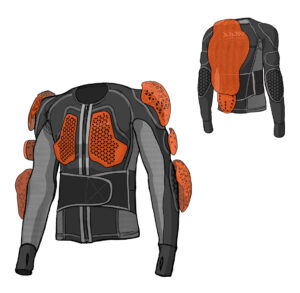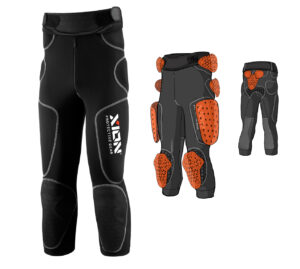 Protection
Proof is in the pudding and I have tasted it with an unintentional low side tumble from the heavy orange machine. Not the most dramatic of tests, but enough to experience that the Xion® protector lives up to it´s claim. In spite of back, shoulder and elbow impact, I suffered no injury or mentionable pain. Official certification and approval documents are of course in place for all Xion® products.
It is perfectly understandable when riders claim that the large, heavy and inflexible foam or thermo plastic protectors of yesterday offer better protection than the putty-like D3O® orange polymer, but this simply is not true. Government and independent laboratory tests have confirmed beyond any doubt that the energy absorbing properties of D3O®® is superior. The material comes in a variety of thicknesses and is becoming an industry standard across high quality brands.
The liquid-like base material is plant-based, so even the most environment conscious riders can sleep comfortably.
Final Thoughts
Adventure riding – what's not to like? I have ridden motorcycles for many years – more than 30 in fact. I have survived my share of hard landings and have lived through all stages from wearing no-protection to ATGATT.
I have all but ditched the heavy riding gear, opting instead for shell style pants and jacket with a protector underneath. This gives me the freedom to layer according to season, weather and temperature, and the improved freedom of movement is fantastic.
Riding this season with the Xion® protectors have been a real eye opener: Good protection does not have to be limiting and uncomfortable. My rides usually takes me to a forest or mountain, where I wild camp. Typically, after a long day on the motorcycle, the first thing I do after finding my spot for the night, is to get out of my riding gear. With the Xion® protectors I find myself wearing the gear while setting up camp – and sometimes even through the remainder of the evening. That is how comfortable this gear is.
The design and quality has proven to be top notch. Zippers and velcro adjusters have survived without a hitch. No seams have given up under the strain of my generous corpus. The D3O® pads are easily removed for throwing the jacket in the washing machine. The only issue worth mentioning, – the Level 2 back protector is fairly heavy and I would have liked a wider velcro strip for the pocket that holds it.
While most adventure riders agree on prioritizing quality when choosing protective gear – cost is an issue, and Xion® products belong to the upper segment in regard to both quality and price. Currently the jackets retail from € 350 and pants for € 250. The tested products wear very well and we expect both pieces to last for several years – value for money is very good.
Xion® deliver top level protection combined with superior comfort. For adventure riders, this is the new black, a product that deliver on every promise and then some. 
For more info on models, sizes and ordering: https://xionpg.com
M Bibow / Basecamp North Founder. Photo-Journalist and Adventure Rider
Comments from fellow Xion®-wearing adventure riders: 
"Super nice. Great elastic material makes it comfortable to wear. Nice fit. Would be nice to see more focus on women riders…"
Henriette T. / Adventure Rider, Denmark
"Exceptional fit, stays in place even during vigorous activity while enduro riding, mountain biking or paragliding."
Thomas R. / Adventure Sports Enthusiast, Denmark
"Comfortable and unobtrusive. Protection that stays close to the body, right where it is supposed to. My Bat suit!"
Peter K. / Adventure Rider, Denmark